Mary's Cuddle Facilitation and Communication Coaching
Home | What I Do | Schedule | Writings | Resources/Other | Contact Me

Media Coverage


Fox 13 Uniquely Utah: watch me give Free Hugs and see my interview.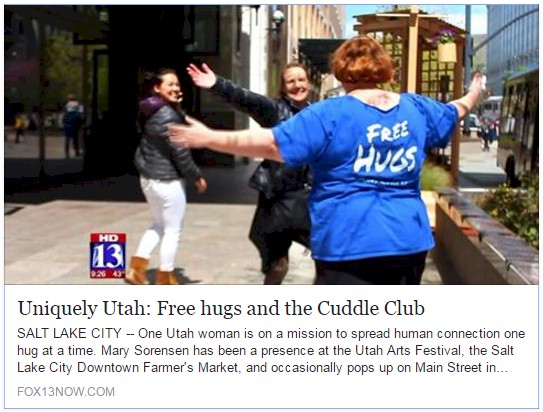 Humans of Salt Lake:



Salt Lake Tribune came to one of our parties: http://www.sltrib.com/home/2807418-155/intimate-strangers-why-hundreds-of-utahns

KUTV was also at the same party: http://kutv.com/news/local/cuddle-parties-meant-to-break-down-social-barriers-meet-need-for-touch



Events and Links

My Facebook page for everything cuddly that I do. www.facebook.com/MaryCuddler

Cuddle Party: Find details about Cuddle Party events all over the world.

Meetup: Join the Utah Cuddle Club Group on Meetup.com to receive emailed announcements and details about my Cuddle Parties and Free Hug events.

Free Hugs. I announce my Free Hug events on the Utah Cuddle Club group on Meetup. It is very satisfying to offer hugs and see the smile it brings to peoples faces, even when they think I'm crazy. Any cuddlers are invited to join me to offer hugs together or you can just come and get a hug from me. If you know of an event or a venue that would enjoy Free Hugs, lets talk about it.

Snuggle Fest. Snuggle Fest is a body positive, non-sexual, clothing optional social event with a communication workshop and agreements similar to Cuddle Party. We have a Facebook Group for Snuggle Discussion and support. Join the Nourishing Connections Meetup to be notified of future Snuggle events.

International School of Temple Arts holds workshop events all over the world. I have attended Level 1 as a participant twice and as an Assistant once. I have also attended Level 2. I highly recommend this experience if you feel you are ready for it.


Let's meet. I am available to meet with you in a public place to chat for half an hour about any of my events or activities if you have questions or if you would just like to meet me before participating in a group event. Please email me to arrange a meeting.


Resources and Articles


Betty Martin.org Betty has created a lot of free online content regarding creating healthy relationship agreements for energy exchange. I highly recommend her Wheel of Consent videos - has made available seven hours of free content on her site.

7 Reasons Many Guys Don't Understand Sexual Consent

How a lack of Touch is Destroying Men

Hugging Meditation from Brain Pickings - Thich Nhat Hanh
Hugging Meditation -Thich Nhat Hanh
Hugging Meditation: Deepen Your Practice

What it means to Hold Space for someone, plus tips on how to do it well

How a Cuddle Party Changed the Way I View consent

Inside the business of Cuddling

This Guy is a Professional Cuddler

The Gabriel Method Wellness and body care. Not just a diet.

The Five Love Languages Discover your Love Language.